What I knew going in: Quite a bit about the story, and all the behind the scenes drama between Hitchcock and Hedren.
After an encounter in a pet shop, socialite Melanie (Tippi Hedren) follows Mitch (Rod Taylor) to the quiet town he retreats to every weekend. Upon her arrivle, the birds in the town start to behave erratically and things drastically escalate.
Hitch apparently terrorizing Hedren during this film is pretty well known, and now I believe it even more because no director that has your best interests in mind directs you into this performance.
This movie is glorious in how bad it is. I'm sure in theory this film isn't as incompetently directed as it seems, there are some nice shots here and there, but the fact that it's about killer birds in a time when special effects were so limited pretty much gives it zero leeway. I mean, they did this...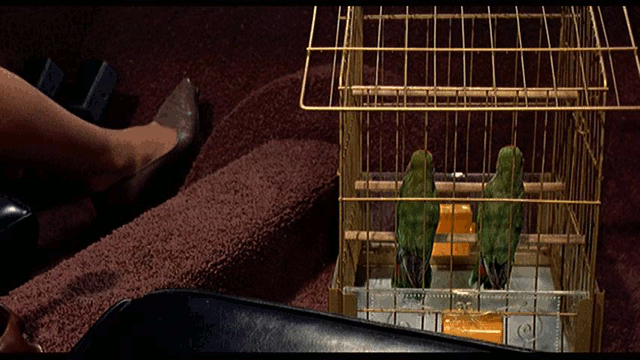 Did this movie actually scare people back then? It couldn't possibly have, right? Nothing about this film looked natural. Not the birds, not the back drops, definitely not the performances.
The only actor that I thought showed some emotional range was Veronica Cartwright, who played young Cathy. She genuinely looked terrified throughout, even with the clunky editing.
I found this entire film unintentionally hilarious and that alone makes me so glad I watched it. It's just so spectacularly bad on every level. It's like it was the inspiration for all campy 80's horror movies.
Recommended: Yes
Grade: B-
Memorable Quote: "She pushed me inside!" - Cathy (Veronica Cartwright)