Review: The Cloverfield Paradox
This is how it starts.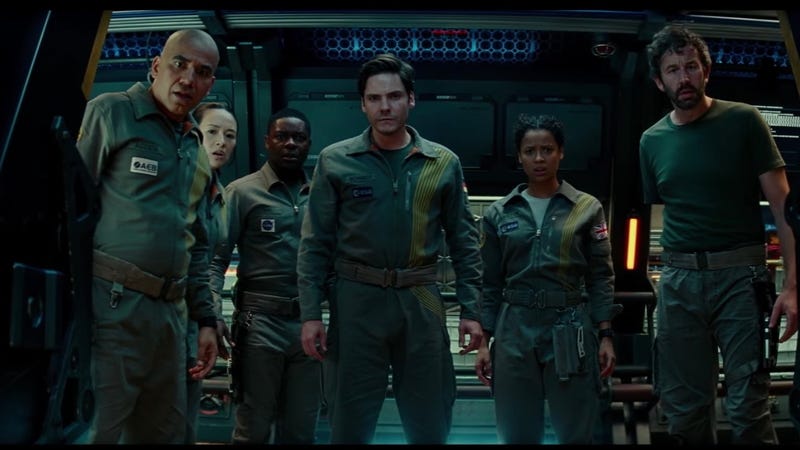 In an international space station, a team of scientists from around the world, Hamilton, (Gugu Mbatha-Raw) Kiel, (David Oyelowo) Schmidt, (Daniel Brühl) Monk, (John Ortiz) Mundy, (Chris O'Dowd) Volkov, (Aksel Hennie) and Tam (Ziyi Zhang) are attempting to test a device that would potentially solve the energy crisis going on in parts of the world. Before they try to fire it, we catch a quick glimpse of a fanantic on a news station warning about the terrible things they could cause by doing what they're doing. And of course, this comes back to bite them.
I've said before how genius I thought the marketing for the original Cloverfield movie back in 2008 ones, and now The Cloverfield Paradox is giving them a run for their money. This was a Superbowl ad during last night's game, followed by the announcement that Netflix was going to drop it immediately after the game was over. That's never happened before (or if it has, at least not with a film this big) It worked. I flipped over to Netflix immediately after the Eagles won and sure enough, there it was waiting for me. So did many others.
This film did what last year's Life was trying to do. It has a diverse cast, they all behaved as scientists and didn't make stupid decisions and it had some legitimately scary moments. (On scene in particular actually made me jump, which rarely happens anymore) The cast has great chemistry. I've been on a Brühl kick lately so seeing him was a nice surprise, but it's Mbatha-Raw who is the heart of the film. She gives a wonderful performance.
This was billed as answering the "how" to Cloverfield, but I don't feel it did that exactly. It did answer the question of how the monsters got to Earth, and maybe I just need to re-watch but I don't remember anyone mentioning the U.S having an energy crisis in the first one, whereas the news in this one talks about it being an ongoing thing in Europe. They made it seem global and I just don't remember signs of it from either of the two movies that came before this. But for me, this was a solid watch. I was surprised when I checked the tags on Twitter and saw a lot of people hating on this. I didn't feel it was bad by any stretch.
Memorable Quote: "That's my fucking arm." - Mundy (Chris O'Dowd)