Why have an apartment if you just want to leave it?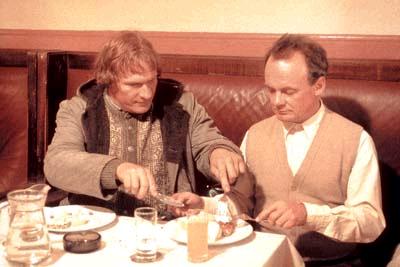 Elling (Per Christian Ellefsen) is 40 years old and spent his entire life never leaving his mother's side. When she dies, he's institutionalized. There he meets his new room mate, Kjell Bjarne (Sven Nordin) another man in his 40's that was extremely sheltered, though much more outgoing than Elling is. After two years they are off to live in a government funded apartment and must learn how to function on their own.
For a movie about the mentally ill, I was surprised at how few clinical terms are actually used in this film. It's quite different from the type of film we'd see in the United States. No one is on medication, and the only disorder mentioned is anxiety, and only twice. No other diagnosis is given. Seems Norway treats mental illness far different than we do here, and that was a nice thing to see.
Ellefsen and Nordin have amazing chemistry. Both Elling and Kjell Bjarne are very different individuals who use each other as their crutch and it's fun to watch them slowly but surely come out of their shells, Kjell Bjarne with getting a girlfriend, and Elling learning he likes poetry.
I kept expecting tragedy to strike, but it never did. The film remains fun and upbeat throughout and feels like a breath of fresh air.
Memorable Quote: "Did I just make a friend without help from the Norwegian government?" - Elling (Per Christian Ellefen)