Captain America Blogathon
Andy from Fandango Groovers is back with another one of his fantastic blogathons! This time, he asks what 10 movies would we recommend to Steve Rodgers, aka Captain America, who had been frozen for so long. I thought about this for a minute. I could recommend my top 10 favorite movies to insure that he has impeccable taste, but I figured I should be fair, and recommend a wide variety of different films so he can get the feel for multiple genres. So here we go. Thanks for hosting, Andy!
1) American Beauty - This is a good movie.
2) The Room - This is a bad movie.
3) To Kill A Mockingbird - This is a classic masterpiece.
4) Inception - This is a modern masterpiece.
5) The Exorcist - This is a scary movie.*
6) Step Brothers - This is a funny movie.
7) Only God Forgives - This is a pretentious movie.
8) Her - This is a thought provoking movie.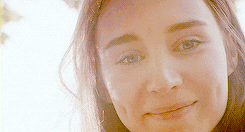 9) WALL-E - This is great animation.
10) Lord of the Rings - These are great book to movie adaptations.
bonus: The Dark Knight - This is the Joker. Be lucky that you are in the Marvel-verse and will never have to deal with him.
*It literally took me like 20 minutes to pick out that Exorcist gif because all the other ones of Regan kept freaking me out.