Rupert Pupkin
has been posting many other film fan's favorite underrated horror movies. Some of the titles brought me back to a time when I was around 13-14 and my friends and I would rent crappy horror VHS tapes from the video store. There are 5 Wednesdays this October, and every Wednesday I'm going to post musings on a different horror movie. These are by no means great movies, in fact, all of them are pretty terrible, but they stick with me for one reason or another.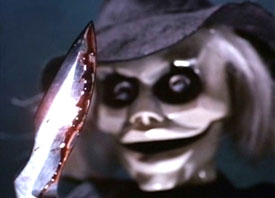 *T
o put it lightly, this movie scared the shit out of me the first time I saw it. I still remember lying to my friend "no, it didn't scare me" after we watched it, then riding my bike home like a bat out of hell.
*I also remember we watched this and Candyman on the same day, but that's legitimately one of my favorite horror movies, so it doesn't get a spot on my bad horror Wednesdays.
*They actually made quite a few more of these, some stream instant on Netflix. I haven't watched the sequels, but the original is almost kind of amusing to me now. Creepy, but amusing.
*Another fun fact? There's actually another movie called The Puppetmaster that was released in 1993, whereas this one was released in 1989. The other is a dub, they seem somewhat similar, but I've never seen the later one.
*Seriously though, puppets are fucking creepy.
Have you see Puppet Master? What did you think?