Thursday Movie Picks: On The Run
This week's theme from Wandering Through the Shelves probably doesn't want you to know where it is. It's all about characters that are on the run from something or someone. I tried to think outside of the box a little, since all the films that first came to mind are very popular (Bonnie and Clyde, Natural Born Killers, No Country for Old Men, Catch Me If You Can, etc) Here's what I came up with
1) Dirty Girl
Danielle decides to run away from home and she ends up taking her classmate Clarke, and their bag of flour that they're supposed to be pretending is their baby with her. It has a horrible title but is actually a lovely little film.
2) Looper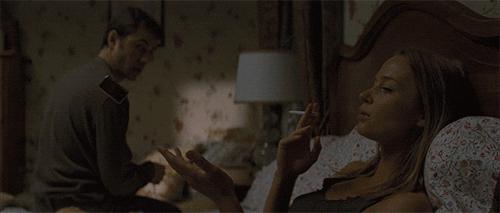 Joe's job as a "Looper" means he has to eventually "close his loop" IE kill his future self as part of his job description, but when he fails to do that, he ends up on the run from the Gat Men as he tries to find out who the mysterious "Rain Maker" is. I love this film from director Ryan Johnson. I can't wait to see how he handles the next Star Wars movie.
3) Mouth to Mouth
Sherry manages to run away from her mother twice in this film. We meet her when she's joining a street gang called S.P.A.R.K (Street people armed with radical knowledge) Her life is a disaster, so I don't blame her for the multiple times she does try to run away from someone. Ellen Page gives a great angsty performance here, and she actually shaved her head for this part.