Review: Toy Story 4
More nostalgia toys.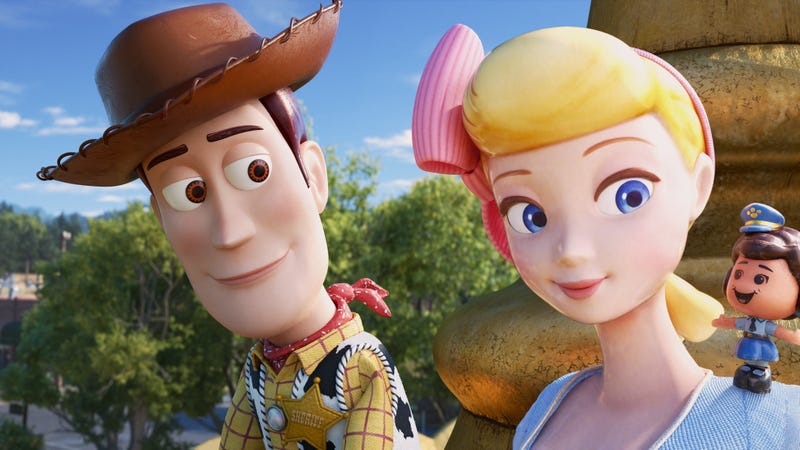 Several years after that perfect ending to this trilogy from my childhood we're back with the toys again. This time, their new child Molly is ignoring Woody (Tom Hanks) but still playing with everyone else. When he sneaks into her bookbag and goes to her first day of Kindergarten and watches her make Forky (Tony Hale) he becomes determined to force him to stay even after he escapes several times.
If you've been reading my blog for awhile, you probably already know that I'm not a fan of the Toy Story franchise. Like most 90's kids, I loved the first one but unlike everyone else I flat out disliked the second and third. Now we're at a fourth installment, which story wise is better than 2 and 3 but still just isn't very compelling.
I'm glad the writers finally decided to do something different and not just repeat the same villain this time around. The idea of "lost toys" and seeing Bo Peep again was nice but the cat and mouse game that Woody and Forky play throughout really drags and makes this film feel a lot longer than it really is. I also found myself getting annoyed with Molly and Forky which probably wasn't the desired reaction. Unlike the other installments, I laughed a few times which was a nice change.
I'm quite torn on this. I hated Toy Story 3, but thought the ending worked really well for the overall series. This film feels unnecessary, yet it's better than the two that came before it. It's kind of a shame that this film will probably win the animated Oscar just because it's Toy Story, when another animated franchise - How To Train Your Dragon - also bowed out this year with a much better final film.
Memorable Quote: "....you got a kid?" - Ducky (Keegan Michael Key)