Review: Can You Ever Forgive Me?
Do you like cats better than people?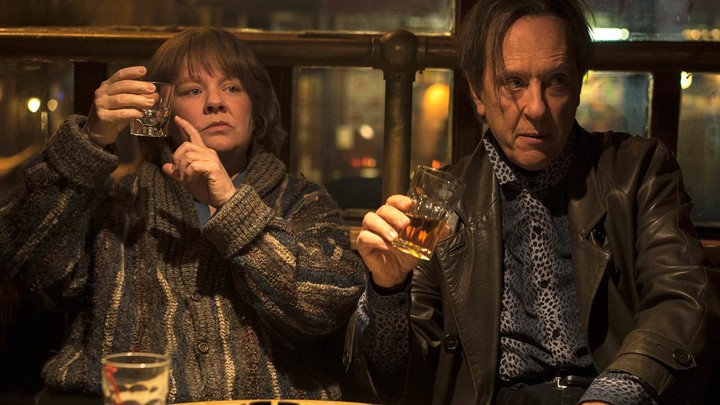 Lee Israel (Melissa McCarthy) is an author that normally writes biographies. When they stop selling, she's short on her rent, her cat is sick, her life is a mess and she's desperate. When she comes across a letter written by a famous writer by chance, she begins forging letters by famous people and selling them off with the help of her new friend, Jack. (Richard E. Grant)
I wasn't familiar with Lee Israel prior to seeing this. This was a story I hadn't heard, and despite being about a crime, it wasn't very compelling. I had a hard time connecting with Lee and Jack. This calls back a bit to what I was talking about in my Wildlife review, another film following objectively unlikable people. It's easy to enjoy a film about unlikable people when the ones you're watching are so well defined. It's almost extraordinary how this film manages to miss that when Lee and Jack are real people.
I think this movie is paced very well, but I was left wanting more context. I felt like I was given the bare minimum of information on the characters in this film. It's like I was watching a Spark Notes version. The script just leaves so much more to be desired.
Melissa McCarthy gives probably her best performance as Lee. If you've been reading me for a while, you know I'm not a fan of hers outside of Spy but I think her fans will absolutely adore this. Richard E. Grant is clearly having a lot of fun in this role as well. I can see why he's getting a lot of Oscar talk, even though I don't think it's the best supporting performance I've seen. The two together have great chemistry and some of their dialogue was fantastic.
Obviously I'm pretty lukewarm on this. If you're a big McCarthy fan, you'll probably love it. Director Marielle Heller's style is definitely all over this film as well, it feels a lot like her last feature, Diary of a Teenage Girl.
Memorable Quote: "How are you going to taste it with his dick in your mouth?" - Lee (Melissa McCarthy)