Review: Little Women
Own your story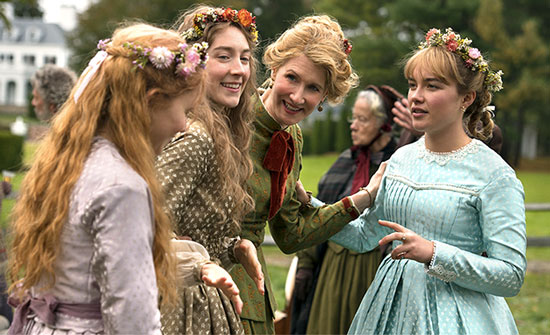 Jo March (Saoirse Ronan) reflects on her life growing up with her three sisters, Amy, (Florence Pugh) Beth (Eliza Scanlen) and Meg (Emma Watson) along with their mother, Marmee (Laura Dern) while their father is away. Jo has ambitions of being an author but still has to provide for her family. She intends to make her own way in life, as do her sisters.
The only other version of Little Women I've seen is the 94 version, which I watched and enjoyed quite often. It's impossible for me not to compare the two. I think they're fairly even quality wise.
I love Saoirse Ronan. She's one of my favorite working actresses and she's great here, but it's not often Ronan gets upstaged. But in this film she is by Florence Pugh, who is had a fantastic year. One of my favorite things about this version was how they handled Amy. Because Florence plays her through all the time jumps, the fact that she eventually marries Laurie is far less creepy than it was in the 94 version. It's a bit weird to say you love someone tantrums, but I loved Amy's. She was just so much fun. Beth has the least to do of the sisters but I loved the way Scanlen delivered her small "aside" lines. Emma Watson was hands down the worst part of this film. She barely holds together her American accent and honestly she felt like she was in a different movie. Meg's scenes were always my least favorite part.
One choice director Greta Gerwig makes to set her version apart was the ever changing timeline. I think that worked really well in certain scenes, but overall I wasn't a fan of the transition. I understand why she did it, but it missed more often than it hit.
The costumes are lovely, and I think I prefer them to the 94 version and of course Alexandre Desplat wrote a lovely score for the film. I had a lovely time watching this. After getting snowed in for three days and having my original plans to watch this put on hold, it was well worth the wait.
Memorable Quote: "I never thought I'd be readying the horses so Jo March could chase a man." - Laurie (Timothee Chalamet)