Review: Fighting With My Family
It was my dream too.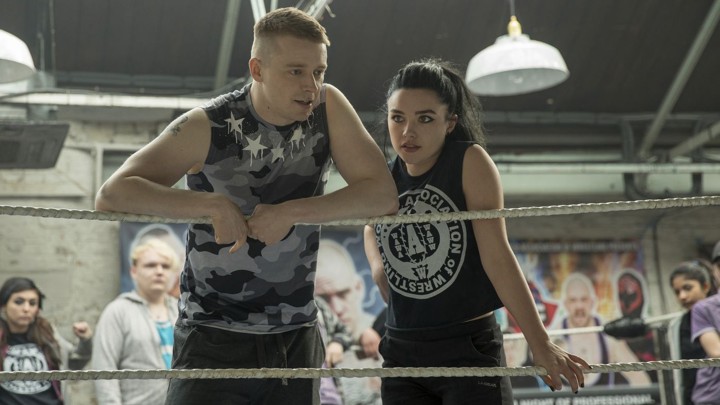 Saraya (Florence Pugh) and Zak Knight(Jack Lowden) are amateur wrestlers in Norwich, England. Their parents (Nick Frost and Lena Headey) are wrestlers too and when Saraya and Zak get the opportunity to try out for the WWE, Saraya makes the cut as Paige and goes on to become the youngest ever Diva's Champion.
I've been watching wrestling on and off my entire life. Most recently, however feels like the longest spell I've gone without watching it week to week. I still try to read my favorite wrestling blogs to keep up with everything, but truthfully I haven't watched consistently since 2016 or so. Paige does have an interesting story and Florence Pugh has been on a roll lately with everything she touches, so when my theater opened this, I knew I had to see it.
Though plenty of liberties and changes were made, I loved how this film captured what life is like in WWE's developmental territory. Just seeing the work outs and how things go in the ring and on the indie circuit was a joy and made me miss going to live shows. Unfortunately a lot of theatrical cliches come along with all this authenticity. Your musical work out montages, family drama, mean girl drama, Paige changing her look to try to fit in, only to switch it back to being herself. Those bits bring the film down and had I not been a fan of wrestling beforehand, this may have been a deal breaker for me.
The actors are all fantastic, especially Pugh and Lowden. Their sibling rivalry feels natural. Unfortunately it's only the Knight family that gets real development. Her coaches and fellow wrestlers in NXT do not get anything close to it.
If you're a wrestling fan, I definitely recommend checking this out, and if you're just looking for something feel good, this should work for you too.
Memorable Quote: "What are you dickheads after?" - Young Saraya (Tori Ellen Ross)