Thursday Movie Picks: Holiday Action Movies
This week's theme from Wandering Through The Shelves is holiday action movies! I'm going to be honest, the only thing I could think of is Die Hard. I actually had to search for the rest of my picks and even they're a bit of a reach. Low effort from me today. If you celebrate Christmas, I hope you're having a Merry Christmas Eve! And if you don't, I hope your Thursday is going splendid anyways!
1) Die Hard
The go to Christmas action flick.
2) Jarhead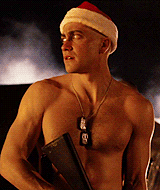 Jake Gyllenhaal dances around naked in a Santa hat while deployed so we're counting it.
3) Prometheus
Idris Elba decorates a Christmas tree and this is mostly an action movie...right?