2018 Against The Crowd Blogathon
Oh man, do I love this blogathon. It's my fifth year participating and I'm glad Dell is bringing it back again. Before we get into it, here are the rules from the man himself:
1. Pick one movie that "everyone" loves (the more iconic, the better). That movie must have a score of 75% or more on rottentomatoes.com. Tell us why you hate it.
2. Pick one movie that "everyone" hates (the more notorious, the better). That movie must have a score of 35% or less on rottentomatoes.com. Tell us why you love it.
3. Include the tomato meter scores of both movies.
4. Use one of the banners in this post, or feel free to create your own.
5. Let us know what two movies you intend on writing about in one of the following ways:
Comment on this or any ACB 2018 post on this site
Tweet me @w_ott3
E-mail me: dellott@yahoo.com
6. Publish your post on any day from Monday August 20 through Sunday August 26, 2017.
So what did I come up with? I actually had a hard time finding something over 75% this year. I kept running into 70-72%. Then when I finally found one I couldn't believe it didn't come to me immediately considering the amount of bitching I did about the film last year. Finding a low rating one I loved was much easier.
These films don't really have anything in common, I attempted to stick with a theme as I had done a few times before, but it really had more to do with one lead being far better than the other. My apologies fellow cinephiles.....but I think Charlie Countryman is so much better than Darkest Hour
There's always one Oscar movie that I just can't get into. Last year, it was Darkest Hour, which eventually won Gary Oldman an "overdue" Oscar even though men like Timothy Chalamet, Daniel Kaluuya, and James Franco acted circles around him. 85% of critics were smitten over this and Oldman's performance. 85%. It didn't matter that we already had a better Churchill (John Lithgow in The Crown...seriously I'll fight you) and a better WWII movie (Dunkirk) The majority loved it.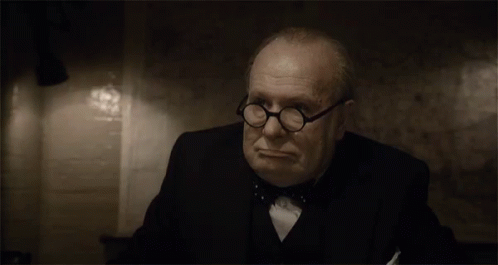 Goddamn, this was boring. Oldman is a great actor but he was drowning under his prosthetic double chin. A bunch of dudes arguing in a room is rarely compelling and I felt it was playing biopic stereotype bingo. Nothing and no one interested me in this. They stayed inside their box. Do you know who went out of theirs?
I watched this again recently and it held up well. Shia LaBeouf is known for being pretty out there now but Charlie Countryman was the turning point for him. It's when he started picking more peculiar projects. They took a simple premise and turned it into something different, yet it only has a score of 29% on Rotten Tomatoes. Just 29%? Unlike Darkest Hour the supporting cast actually stand out. It's grim, wacky, fun, and touching all at the same time. It never once feels like its simply going through the motions. It wants to be different, and succeeds.
Sure this movie was plagued by a bit of drama with MPAA fuckery and a late title change after it premiered at Sundance, but I adore it. It even has Ron Weasley running around high as a kite. Can you go wrong with that?
Thanks for hosting, Dell!