Dog Day Blogathon
The lovely Allie over at Often Off Topic is hosting a one day blogathon in honor of National Dog Day! Here are the rules:
1)Write a dog-related movie post for your blog. Tell us about your favourite on-screen canine, put together a Top 10 list, whatever your creative minds can think of.
2)Publish your post on Sunday 26th August 2018, on National Dog Day.
3)Either send me a link to your post as a comment here, send it to me on Twitter, or email it to allieisoftenofftopic@gmail.com. Heck, write the link on a post-it note and stick it on my front door if you like! Just let me know!
4)Optional: Do you have a dog? Or perhaps you had a dog you sorely miss? Share them with us, all dogs should be celebrated!
5)On the following day, I'll create a master post with links to everyone's posts.
I've talked about this before, but I cannot handle dog death in film. Any canine death hits me harder than any other animal. I know why. I blame my day care center who thought it was totally okay to show a bunch of four year olds Old Yeller. Because of this, I avoid movies where dogs play a huge part. So I decided to make a list using a popular writing trope. Here's five dog movies that I despise and three that make me happy.
1) Old Yeller - Remind me again what lesson I was supposed to learn from this piece of torture porn? That a poor dogs gets mauled by several different animals to protect some bratty children only to contract rabies and get shot at the end? Fuck you.
2) Homeward Bound - Why did that dog have to fall through the railroad tracks?! Fuck you.
3) Where The Red Fern Grows - Shout out to my 6th grade teacher who made us read this book AND watch the film version. And you know what, a red fern didn't even grow between their graves in real life. The author made that up. Fuck you.
4) Stone Fox - A kid enters a dog sled race to win money to save the family farm only for his dog's heart to burst right before the finish line. Another product of my school*. Fuck you.
5) My Dog Skip - Was the shovel hit really necessary? Fuuuuuuuuuuuuck you.
And the superior dog flicks....
Beginners - You go Arthur. You beautiful thing that wasn't sacrificed to the alter of shitty doggy death tropes.
Please Stand By - This adorable little dog wears a Star Trek sweater throughout the entire film. How can you not love that.

Anchorman - Sure, Baxter gets punted off the bridge but Adam McKay had the decency to make it obvious it was a stuffed animal.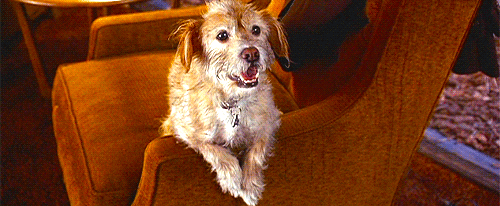 *Discussion question: Was my elementary school district full of sadists? Yes or no?
Thanks for hosting, Allie!