Review: Empire of Light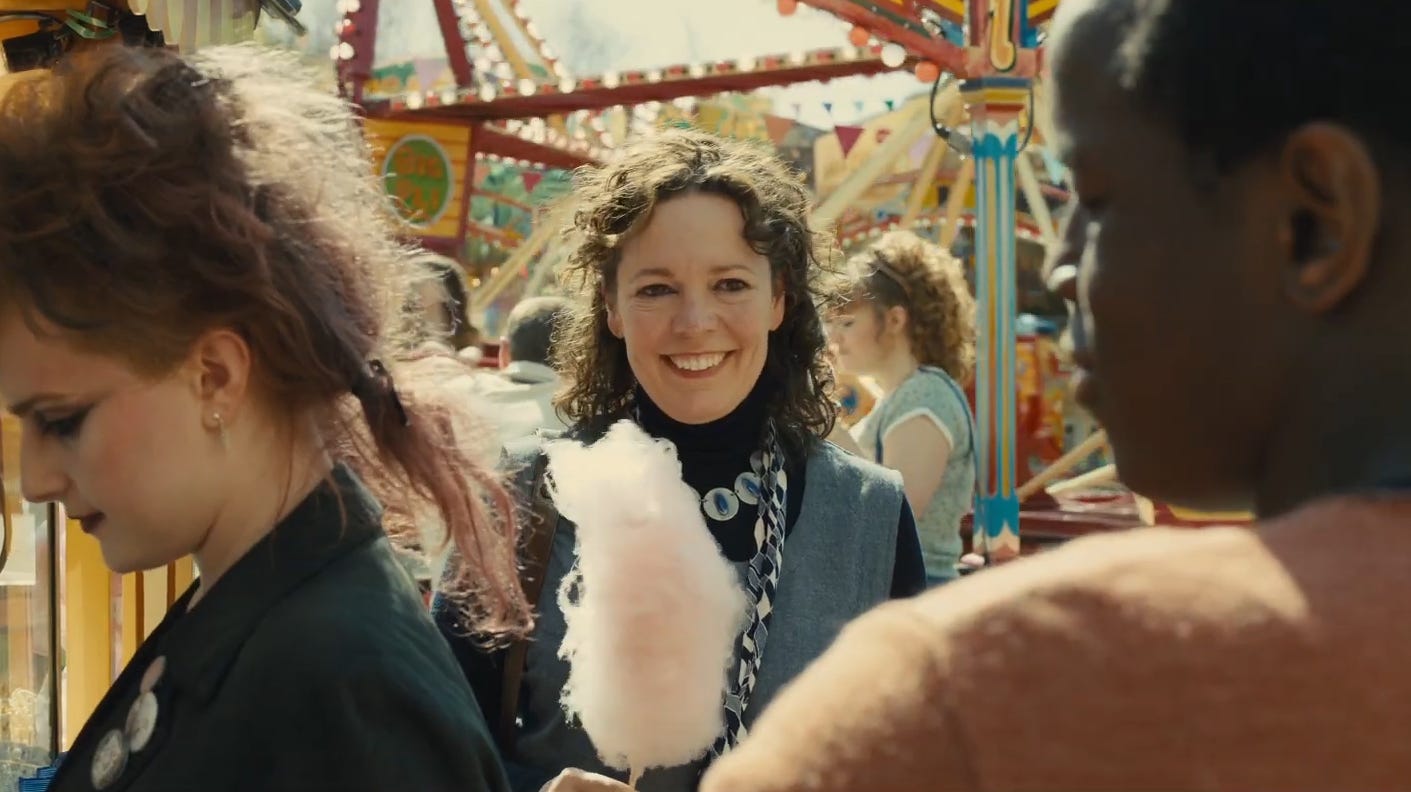 Set in a coastal town in England during the 1980's, Hilary (Olivia Colman) works at the Empire theater, but has little joy in it. She's on new medication for her mental illness, she's having an emotionless affair with her boss, Mr. Ellis (Colin Firth) and she just doesn't see the beauty in movies. They're for the customers. Then a new hire, Stephen (Michael Ward) comes along and changes her life drastically.
There's that saying "Don't quit your day job" and Director Sam Mendes should never stop directing. I'm always interested in this films, but after viewing this...maybe screenplays aren't his thing. This movie is kind of a mess story wise. All the trailers have you believe it's about the magic of cinema. They all have that long Toby Jones voice over in the projection booth and that lovely shot of Olivia Colman in a theater all by herself, but none of that is actually the focus of Empire of Light.
Maybe it wanted to be about that, but the film also attempts to tackle racism and mental illness. I say "attempts" because it shifts perspectives in a way that never allows the film to fully commit to either. Especially tackling race. Stephen suffers greatly from it, but it's used more as a catalyst for Hilary than anything which made me quite uncomfortable.
And it's a shame the screenplay is so weak because everything else works so well. Roger Deakins' cinematography is always perfect. This is easily one of the best shot films of the year. Olivia Colman gives an outstanding performance and runs the full range of emotions and she deserves a better movie. Michael Ward does too. Stephen is the light of this film really, and he has to stay happy yet stoic throughout. It's a very layered performance that again, deserves a better movie.
I feel like I'm quite generous with the rating despite its screenplay problem because of how well some of the other things work.
B-